"I know but one thing: that Palatucci saved my father and my mother. That he provided documents in two occasions that defined them as "free Jewish prisoners" and prevented them from being deported to the extermination camps."
Renata Conforty, the daughter of the Jewish survivors Olga née Hamburger and Salvatore Conforty, was born in 1942 in the town of Fiume. As "foreign civilians", the family was interned in Mirandola (Modena) afterwards.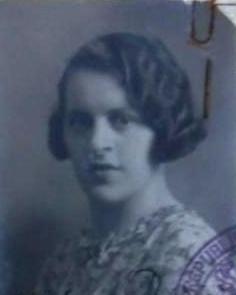 "On his own initiative he added that he would do everything possible to find ways to bring my whole family as soon as possible to Switzerland. A sister and a brother of my husband lived there. He refused firmly any type of gift or token of gratitude, surprised that his help would be reciprocated in some way."
Elena Ashkenasy Dafner in a letter to Yad Vashem, 10 July 1988. Her family was from Vienna and had fled to the port city of Fiume, hoping to save themselves from deportation. Later, Elena Ashkenazy, her husband and her baby daughter were transferred to Caprarola (Latium, Italy), while other male family members were arrested in Fiume and interned in the Ferramonti internment camp for Jewish prisoners.
A road in Caggiano (Salerno, Italy) named after Giovanni Palatucci, who was posthumously awarded with the "Medal of Gold for civil merit". Until today, many schools and roads in Italy bear his name. Source: Wikimedia Commons
"The influence and authority of Pius XII was wide-ranging. In the port of Fiume, the Italian police chief, Giovanni Pallatuccii [sic!], - the nephew of an Italian bishop, Giuseppe Palatucci – together with his uncle, saved 5,000 Jews from deportation during the German occupation of the port. They did so by providing the Jews with false identity papers, enabling them to gain safety in the bishop's diocese in southern Italy. For helping the Jews of Fiume, Giovanni Palatucci was arrested by the SS and sent to Dachau, where he was executed. Pius XII took a direct part in sending money to support the Jewish refugees from Fiume."
In his book "Pope Pius XII and World War II – The Documented Truth", author Gary L. Krupp draws a picture of Pallatucci that is until today very characteristic throughout Italy and many other countries.