The city of Fiume (now Rijeka, Croatia) changed hands many times during the centuries because of its strategic position at the Adriatic Sea and its deep-water port. During the nineteenth century, it was part of the Austro-Hungarian Empire and had a semi-autonomous status until its fall in 1918.
The Free State of Fiume and the divided city
At the end of World War I, the rival Croatian and Italian administrations both claimed sovereignty in Fiume based on the size of their ethnic populations. In September 1919, Fiume was occupied by a group of Italian nationalists, led by Gabriele D'Annunzio, who took control of the city by force. In November 1920, Italy and Yugoslavia concluded the Treaty of Rapallo, under which Fiume became an independent state called Free State of Fiume, under a regime acceptable to both parties. D'Annunzio declared war against Italy, but was forced to surrender the city. Italian troops then took over in January 1921. After a period of instability, the Treaty of Rome was ratified on 27 January 1924, during the first government of Benito Mussolini. This treaty assigned the administration of Fiume to Italy and granted Yugoslavia part of the harbour; the river delta; and the neighbouring town of Sušak. In 1937, Giovanni Palatucci became head of the office for foreigners at the local police headquarters and in 1939, the city counted 58,616 inhabitants.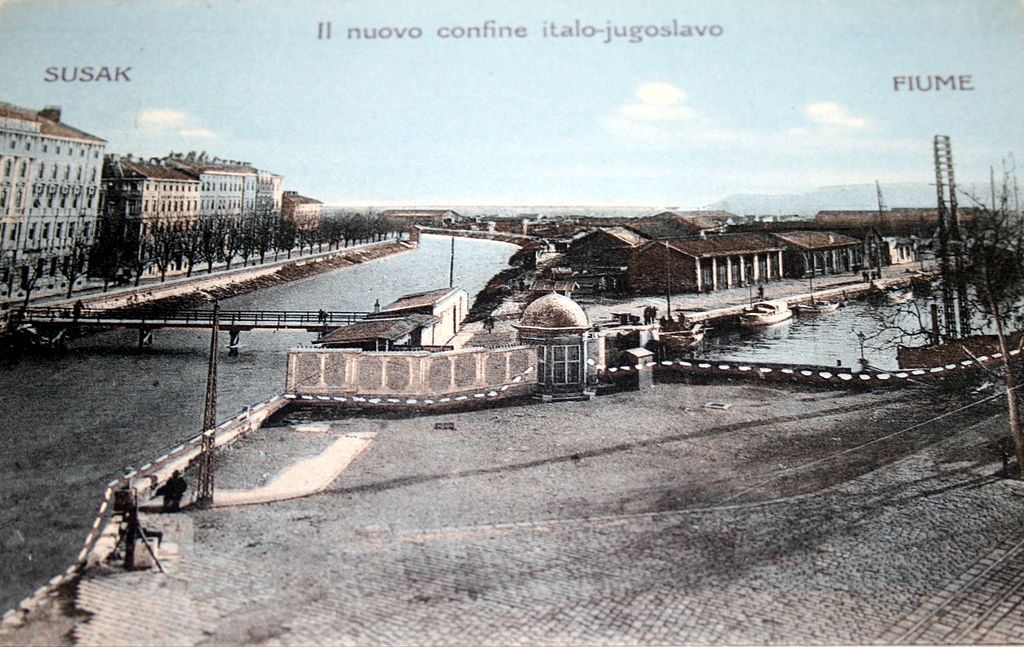 "The new Italian-Jugoslavian border". Postcard of Sušak and Fiume, 1925. Source: Wikimedia Commons
During World War II, after Italy had occupied Sušak as well, the whole area experienced strong Partisan activity. This included attacks on supply columns, sabotage, and even the killing of civilians believed to be connected to the Italian authority. On 8 September 1943, as a consequence of the armistice proclaimed by General Badoglio, Fiume became subjected to German authorities (insertion: nominally administered by the Republic of Salo).
On 3 May 1945, Yugoslavian troops entered the city. Fiume then became part of Yugoslavia under the name of Rijeka. It is now the main seaport and the third-largest city of Croatia with around 120,000 residents.