"During my tour of Poland in the spring of 1967, I visited Jedwabne. I was shocked when I found not a trace of that thriving Jewish community that once existed there. The Jewish cemetery was plowed under. The land owned by my family of millers, which they tilled, seeded and planted, weeded and watched over, to the fulfillment of a plentiful harvest of potatoes, and some wheat, corn and beans, lay barren. Their mill and house, storage buildings, barn, sheds, all were destroyed. On their land, near the road, was a gasoline station."
Rabbi Julius L. Baker in his article "The Destruction of the Jewish Community of Yedwabne"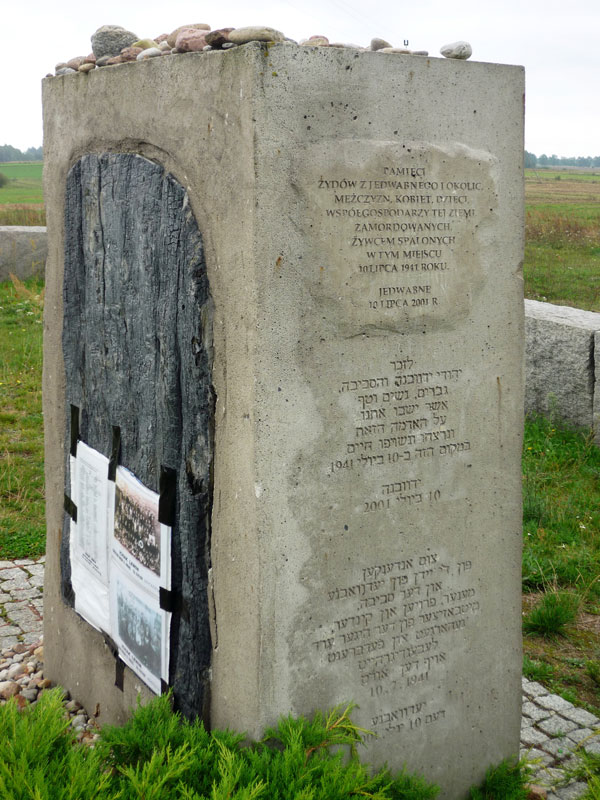 In the 1960s, a monument had been placed in Jedwabne with the inscription: "Site of the suffering of the Jewish population. The Gestapo and the Nazi Gendarmerie burned alive 1600 people on 10 July 1941."
On the pogrom's sixtieth anniversary on 10 July 2001 a new memorial was set up in Jedwabne. A symbolic barn door is mounted on the memorial stone. The inscription reads: "In memory of the Jews from Jedwabne and its surroundings, men, women, and children, co-owners of this land, murdered, buried alive on this site on 10 July 1941."
In 2011, Vandals destroyed the memorial, covering it with racist inscriptions and swastikas in green paint. They also smeared the wall surrounding the memorial with signs saying "I'm not sorry for Jedwabne" and "They were highly flammable". The Hebrew and Polish signs on the memorial itself were obscured with paint.
Photo: Wikimedia Commons, August 2009.