The so-called "technical sub-committee", under the chairmanship of judge Michel Hansson from Norway, was to deal with questions concerning the steps that could be taken, within the framework of existing immigration laws and regulations, e.g. the formulation of statements regarding the respective country's laws and practices and the number and type of immigrants a country would now be prepared to receive or might consider receiving in the future. However all the committee managed to agree on a communiqué on future plans and the will of the countries to "co-operate to the extent permitted by their laws and individual situation":
"...A further study of the problem may therefore be hopefully undertaken. As has been stated, the problem is vast and complex, and it is evident, that it will require a long-range programme for its solution, carefully conceived and carried out. The countries represented on the Committee which border Germany and Austria have generously received large numbers of refugees and cannot at present be expected to add considerably to those numbers until there has been a reduction in their refugee population by absorption and by emigration of refugees to other countries... Many countries are faced with a serious economic and unemployment situation which does not permit of a large and sudden influx of foreigners into their territories. Moreover, the impoverished condition in which a great number of refugees are obliged to seek settlement outside Germany and Austria constitutes a major obstacle to their transference to another country."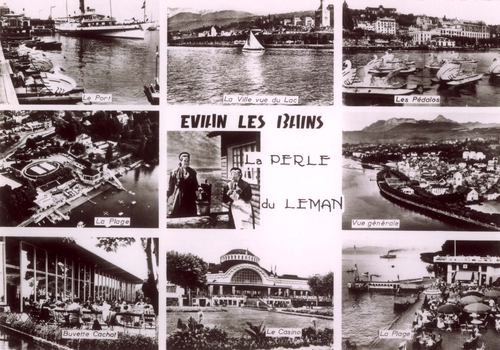 Postcard produced for the Evian Conference, France 1938. Source: Yad Vashem/USHMM, 6337/9.
Although the delegates all arrived on time, some of the early sessions were sparsely attended. The hotel's chief concierge later recalled why: "All the delegates had a nice time. They took pleasure cruises on the lake. They gambled at night at the casino. They took mineral baths and massages at the Etablissement Thermal. Some of them took the excursion to Chamonix to go summer skiing. Some went riding; we have, you know, some of the finest stables in France. But, of course, it is difficult to sit indoors hearing speeches when all the pleasures that Evian offers are outside."
Cited in: The David S. Wyman Institute for Holocaust studies, Evian Conference, http://enc.wymaninstitute.org/?p=190