During the Great Depression, the German government limited the free flow of capital and strictly controlled the exchange of foreign currency. To prevent capital flight in the wake of these measures, the government imposed an Escape Tax (Reichsfluchtsteuer) in 1931 to dissuade capital export. Any citizen of the Weimar Republic as of March 31, 1929 who moved abroad before December 31, 1932 was subject to this tax. The Reich Escape Tax was assessed upon departure from the individual's German domicile, provided that the individual had assets exceeding 200,000 RM or had a yearly income over 20,000 RM. The tax rate was set at 25 percent.
After the Nazi Party's rise to power, the Reichsfluchtsteuer became a punitive anti-Semitic tax. A major change made in May 1934 was the lower limit for taxable assets, decreased from 200,000 to 50,000 RM.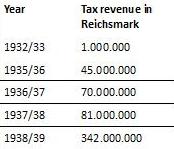 By 1933, less than one million marks had been raised through this tax. However, with the mass emigration subsequently caused by the government's escalating persecution of political opponents and so-called non-Aryans, revenue from this tax increased to 17 million Reichsmark in 1933 and eventually reached 342 million Reichsmark in 1938. 90% of these funds came from emigrants persecuted for religious or racial reasons. On 23 October 1941, a decree from Heinrich Himmler eventually forbade Jewish emigration.