Final Statement of Defendant Oberheuser
I have nothing to add to the statements I have made from the witness box under oath. In administering therapeutical care, following established medical principles, as a woman in a difficult position, I did the best I could. Moreover, I fully agree with the statements made by my defence counsel and will refrain, at this late state of the trial, from making any further statements.
Opinion and Judgement of the United States Military Tribunal II
The indictment in this case contains three counts, which may be summarized as follows:
Count One: War crimes, involving murder, slave labor, deportation of civilian population to slave labor, cruel and inhuman treatment of foreign laborers, and the use of prisoners of war in war operations by force and compulsion.
Count Two: War crimes, involving murder, subjecting involuntary victims to low-pressure and freezing experiments resulting in torture and death.
Count Three: Crimes against humanity, involving murder and the same unlawful acts specified in counts one and two against German nationals and nationals of other countries.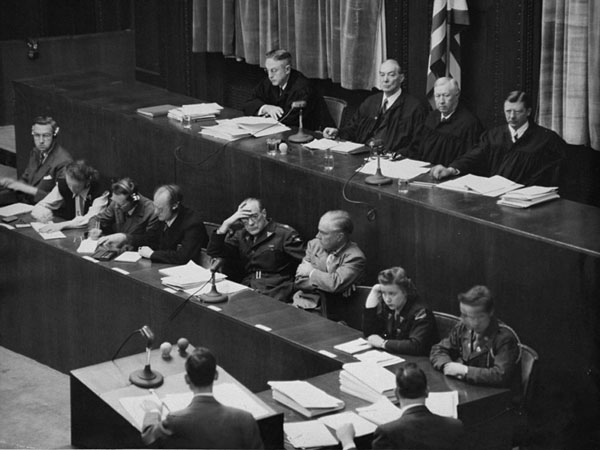 American judges (top row, from left) Harold Sebring, Walter B. Beals, Johnson Crawford, and Victor Swearingen during the Doctors Trial, which was held in Nuremberg, Germany, from December 9, 1946, to August 20, 1947, © NARA
The defendant Oberheuser is charged under counts two and three of the indictment with Sulfanilamide, Bone, Muscle and Nerve Regeneration and Bone Transplantation, and Sterilization Experiments.
The charge of participation in the sterilization experiments has been abandoned by the prosecution and will be not considered further. [...]
She [Oberheuser] volunteered for the position of a camp doctor in the women's department of the Ravensbrueck concentration camp in 1940 and remained there until June 1943. She was then given a position as assistant physician in the Hohenlychen hospital under the defendant Gebhardt. [...]
Fischer and Oberheuser were Gebhardt's active agents in carriying out these experiments. They did a great deal of the actual work. They personally commited atrocities involved in the experiments. [...] Oberheuser was thoroughly aware of the nature and purpose of the experiments. She aided in the selection of the subjects, gave them physical examinations, and otherwise prepared them for the operation table. She was present in the operating room at the time of the operations and assisted in the operational procederes. She faithfully cooperated with Gebhardt and Fischer at the conclusion of each operation by deliberately neglecting the patients so that the wounds which had been given the subjects would reach the maximum degree of infection. [...]
Nonconsenting Non-German nationals were used in at least some of the experiments. Many of them died as result of the experiments. To the extend that the crimes commited were not war crimes, they were crimes against humanity.
Conclusion
"Herta Oberheuser, Military tribunal I has found and adjudged you guilty of war crimes and crimes against humanity, as charged under the indictment heretofore filed against you. For your said crimes on which you have been and now stand convicted Military Tribunal I sentences you, Herta Oberheuser, to imprisonment for a term of twenty years, to be served at such prison or prisons, or other appropriate place of confinement, as shall be determined by competent authority."
Note: Oberheuser's appeal was successful: her prison sentence was commuted to 10 years. On 5 April 1952, after five years of imprisonment, she was released early on ground of "exemplary behaviour". A month later, she was recognised as a late returnee and opened a surgery for private patients in Stocksee (Schleswig-Holstein).
It was only after massive protests from survivors that a long-running lawsuit was launched, at the end of which her licence to practice medicine was eventually revoked in 1958.