Question: Now, witness, were you operated on while you were in the Ravensbrueck concentration camp?
Answer: Yes, I was.
When did that happen?
On 22 July 1942, 75 prisoners of our transport that came from Lublin were summoned to the chief of the camp. [...] On 25 July, all the women from the transport of Lublin were summoned by Mandel who told us that we were not allowed to work outside the camp. [...] The next day 75 women were summoned again and we had to stand in front of the hospital in the camp. Present were Schiedlausky, Oberheuser, Rosenthal, Kogel, and the man whom I afterwards recognized as Dr. Fischer.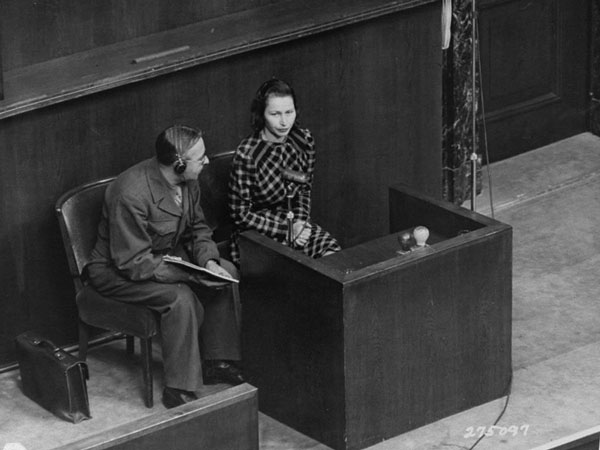 Władysława Karolewska, victim of the medical experiments and one of four Polish women to appear as prosecution witnesses, on the stand at the Doctors Trial, Nuremberg 1946
[...] On the 14th of August, the same year, I was called to the hospital and my name was written on a piece of paper. I did not know why. Besides me, eight other girls were called to the hospital. We were called at a time when executions usually took place and I thought I was going to be executed because some girls had been shot down before. In the hospital we were put to bed and the ward in which we stayed was locked. We were not told what we were to do in the hospital and when one of my comrades put the question, she got no answer but an ironical smile. Then a German nurse arrived and gave me an injection in my leg. After this injection I vomited and I was weak. Then I was put on a hospital cot and they brought me to the operating room. There, Dr. Schiedlausky and Rosenthal gave me the second intravenous injection in my arm. A while before, I noticed Dr. Fischer, who left the operation theater and had operating gloves on. Then I lost consciousness and when I revived, I noticed I was in a proper hospital ward. I recovered consciousness for a while and I noticed severe pain in my leg. Then I lost consciousness again. I regained consciousness in the morning, and then I noticed that my leg was in a cast from the ankle up to the knee and I felt very great pain in this leg and had a high temperature. I noticed also that my leg was swollen from the toes up to the groin. The pain was increasing and the temperature, too, and the next day I noticed that some liquid was flowing from my leg. The third day I was put on a hospital trolley and taken to the dressing room. Then I saw Dr. Fischer again. He had on an operating gown and and rubber gloves on his hands. A blanket was put over my eyes and I did not know what was done with my leg, but I felt great pain and I had the impression that something must have been cut out of my leg. Those present were Schiedlausky, Rosenthal, and Oberheuser. [...] Two weeks later, we were all taken to the operating theater again, and put on the operating tables. The bandage was removed, and that was the first time I saw my leg. The incision went so deep that I could see the bone.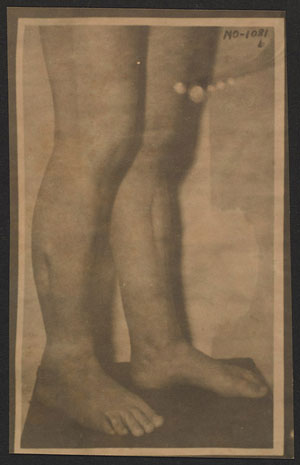 [...] While I was in the hospital, Dr. Oberheuser treated me cruelly. When I was in my roon, I remarked to fellow prisoners that we were operated on in very bad conditions and left here in this room and we were not even given a chance to recover. This remark must have been heard by a German nurse who was sitting in the corridor, because the door leading to the corridor was opened. [...] Then the German nurse came into our room with Dr. Oberheuser. Dr. Oberheuser told us to dress and come to the dressing room. We put on our dresses, and, being unable to walk, we had to hop on one leg into the operating theater. After one hop we had to rest. Dr. Oberheuser did not allow anybody to help us. When we arrived at the operating theater, quite exhausted, Dr. Oberheuser appeared and told us to go back, because the change of dressing would not take place that day.[...]
How long was it until your leg was healed?
The pus was flowing from my leg till June 1943; and at that time, my leg was healed.
The entire document is provided in the download section.