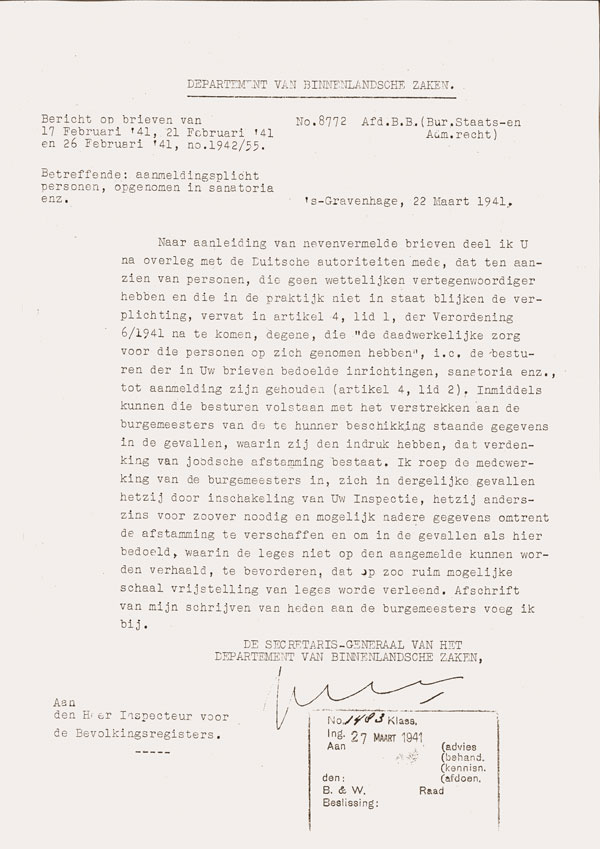 Letter of the Dutch Secretary of State of the Ministry for the Interior to the mayors of Dutch towns, 22 March 1941 about the registration of "doubtful cases" in care.
Translation of the document:
Ministry of the Interior
Report on letters of 17 February, 21 February and 26 February 1941, No. 1942/55
Reference: Compulsory registration of persons in sanatoriums etc.
The Hague, 22 March 1941
After consultation with the German authorities, I am writing with reference to the abovementioned letters to inform you that, in the case of persons who do not have an official guardian but who nonetheless are for practical reasons unable to comply with the duty to register set out in article 4, paragraph 1 of the order of 6/1941, those who "actually have a duty of care for the person" i.e. the management of the institutions, sanatoriums etc. mentioned in your letters, are required to undertake the registration (article 4, paragraph 2). In the cases where they have the impression that there is a suspicion of Jewish descent, those with the legal duty of care may restrict themselves to passing the information known to them to the mayor. In these cases, I will ask the mayor to obtain the further information necessary for clarification of their origins, whether by informing your inspectorate or by other means, and in the cases in which the fees cannot be transferred to the persons to register, to refrain from levying the fees wherever possible. […]
State Secretary in the Ministry of the Interior
To the Inspector of the Population Register